Ots Labs OtsTurntables
Download OtsTurntables Free
Please check system requirements and download below.
System Requirements: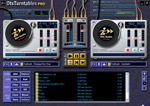 OS:
Microsoft Windows XP, Vista, 7, 8, 8.1 or 10
(choose older version below for 95, 98, ME, 2000 support)
CPU:
Pentium II 233MHz or better (Pentium III 500Mhz or higher recommended).
RAM:
64MB or more.
Disk space:
The application will occupy about 2.9MB once installed.
Soundcard:
A sound card with DirectSound or WDM drivers.
Video:
A video card capable of at least 16-bit "hi-color" mode with a screen resolution of 800 x 600 is required.
CD-ROM:
To use the CD Digital Audio direct capabilities, you will need a CD-ROM drive which can accurately read CD-DA streams (most name brands manufactured in the last few years are fine). A CD-ROM that uses constant angular velocity (CAV) technology is recommended.
Windows XP / Vista / 7 / 8 / 8.1 / 10 version:
OtsTurntables Free version 1.00.064 was released 1 August 2015.
Windows 95 / 98 / ME / 2000 version:
Note: If you are a licensed user you need to instead download the licensed version here.